Posts for tag: teeth grinding
By Dentures in a Day
October 16, 2019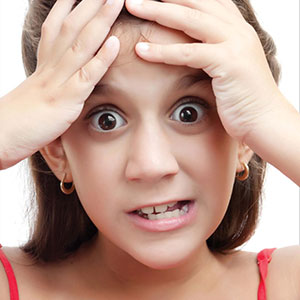 First the bad news: Those nightly hair-raising sounds are indeed coming from your child's bedroom—from your child. It's the result of them grinding their teeth while they sleep.
But here's the good news: the only likely harm is a lack of sleep members of your household might experience because of it. Teeth grinding is so prevalent among pre-teen children that many healthcare professionals consider it normal. But that doesn't mean it can't become a problem, so it's worth monitoring.
Teeth grinding is part of a family of dental habits known as bruxism. It involves any involuntary movement of the teeth and jaws outside of their intended functions not associated with chewing, speaking or swallowing. Our main concern with any bruxism is the possibility for generating stronger biting forces than normal that could damage teeth and gums and contribute to jaw joint problems.
Teeth grinding can occur in adulthood, with stress seeming to be the major trigger for it. With children, though, it's believed to be mainly caused by an immaturity of the child's neuromuscular process that controls chewing. As this matures, most children will tend to outgrow the habit none the worse for wear.
But there are pediatric cases in which the generated biting forces are strong enough to cause damage. Teeth grinding is also prevalent in children who snore or breathe through their mouths, which could be a sign of a serious health condition called obstructive sleep apnea. And certain medications used to treat depression and attention deficit disorder (ADHD) may also contribute to teeth grinding.
Most of the time we can simply let the habit run its course. If, however, the child begins to experience abnormal tooth wear, headaches, jaw pain or other issues believed caused by teeth grinding, we may need to intervene. This could include a plastic night guard the child wears during sleep that prevents the teeth from making solid contact during grinding episodes. And children with signs of airway obstruction should be evaluated by an ear, nose and throat specialist.
It can be irritating or even distressing. But your child's teeth grinding doesn't mean you should be alarmed—only that you should keep your eye on it.
If you would like more information on teeth grinding and similar habits, please contact us or schedule an appointment for a consultation. You can also learn more about this topic by reading the Dear Doctor magazine article "When Children Grind Their Teeth."
By Dentures in a Day
May 14, 2018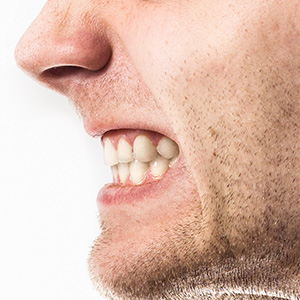 Chronic stress is like a tea kettle on the boil—all that "steam" has to go somewhere. We often do this through behaviors like biting our nails, binging on comfort food—or grinding our teeth. That latter habit, however, could have a detrimental effect on teeth, including excessive enamel wear or even fractures.
Also known as bruxism, teeth grinding is the forceful and often involuntary contacting of teeth that often generates abnormally high chewing forces. While not considered a relatively big problem with young children, it can be if you're an adult. While there could be other causes, chronic stress is often a  prime factor for adults with bruxism.
While teeth grinding can occur during the day when you're awake, it often occurs at night during sleep and may be associated with other sleep disorders like snoring. Although you might not be consciously aware of a grinding episode as it happens, you may notice its effects the next morning, including sore jaws or headaches. Over time, your dentist may begin noticing its effects on your teeth.
So, how can you lessen teeth grinding? For starters, if you're a tobacco user, quit the habit. Many studies indicate tobacco users report twice the incidence of teeth grinding as non-users. Excessive caffeine, alcohol or drug use can also contribute.
People have also found it helpful to address chronic stress through a number of relaxation techniques like meditation, more relaxing bedtime preparation, bio-feedback or therapy to "de-stress." Although there's not a lot of empirical evidence for these techniques' effectiveness, there's much anecdotal data from people who've found stress relief from them.
There's also a dental treatment using an occlusal guard that, while not stopping bruxism, can help prevent dental damage. Usually worn during sleep, the custom-made guard fits over the teeth of one jaw, usually the upper. Its high impact plastic prevents the teeth from making solid contact, thus reducing the biting force. You may also be able to reduce bruxism effects through dental work and orthodontics,
You and your dentist can explore the options to find the right treatment strategy for you. By taking action now, you may avoid much more extensive—and expensive—problems with your teeth down the road.
If you would like more information on teeth grinding and what to do about it, please contact us or schedule an appointment for a consultation. You can also learn more about this topic by reading the Dear Doctor magazine article "Teeth Grinding: Causes and Therapies for a Potentially Troubling Behavior."